The environment of health services is one of the most important objectives for cleaning companies. The accumulation of microorganisms and their poor cleaning cause a greater proliferation of pathogens that cause infections and diseases.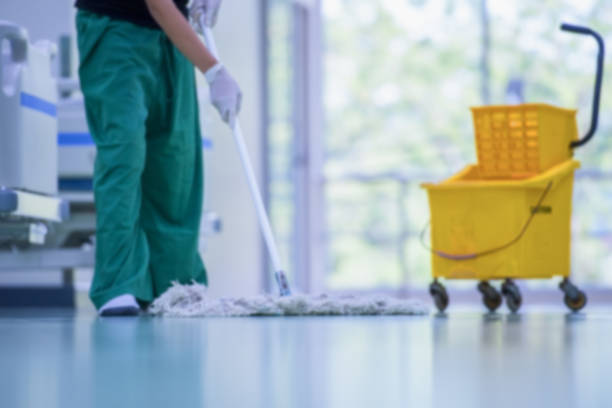 Correctly disinfected hospital surfaces reduce up to 99% of the number of microorganisms. Only 80% of the number of microorganisms is reduced by simply cleaning the surfaces (without a disinfection process). Thus, the hospital cleaning company has to be the right one for the results for a place as exposed as a hospital.
In this article, we are going to analyze all the requirements and key points that a hospital cleaning company has to carry out in order to carry out its work correctly and achieve optimal results.
The main hospital cleaning services
The hospital cleaning company is in charge of cleaning and disinfecting surfaces and areas in a hospital. In these agencies, cleaning services are part of the control measures, preventing an infection from spreading. The objective of the services offered by the hospital cleaning company is to guarantee a clean place with a minimum load of contamination inhabitable by patients. It helps reduce the chances of transmitting infections.
One of the main sources of infection that require a special cleaning process is the different surfaces that we find in hospitals. We refer to furniture, floors, doors, windows, ceilings, screens, sanitary equipment, stretchers, sofas, sanitary installations, air conditioners, fans, etc.
However, surfaces have a minimal risk of direct transmission of infection but can contribute to secondary cross-contamination. What is this? This concept refers to the non-direct infection process that can occur through the hands of health professionals and the instruments or products that can become contaminated when they are placed on said surfaces.
Factors that cause contamination in hospitals
The hospital cleaning company has to take into account the factors that can favor contamination within a health center:
Although it does not depend directly on the hospital cleaning company, the hands of health professionals are in contact with infected surfaces at all times. When health professionals do not use basic cleaning techniques in hospital processes and on a daily basis.

Keep surfaces damp or wet without carrying out the full cleaning process.

Leaving different surfaces such as cabinets, shelves, or tables uncleaned that are not used on a day-to-day basis can give the feeling that they do not need cleaning. However, the accumulation of dust in them can cause contamination and subsequent infection and contagion of people.

The lack of cleanliness and hygiene in walls, ceilings, windows, doors, floors, carpets…

Keep organic matter in different rooms or cabinets conditioned for them in hospitals.
Cleaning processes to prevent disease transmission
The hospital cleaning company must comply with a series of measures that reduce the interference of the environment in infections related to health care.
It is not possible to use vacuum cleaners that favor the lifting of suspended particles. The machinery used must comply with this standard. Non-compliant vacuum cleaners may only be used in administrative areas.

I must clean the internal areas of hospitals and health clinics with wet sweeping techniques that do not cause particles to rise. It is necessary and essential that the hospital cleaning company does not perform dry sweeping.

Surfaces -floor, walls, medical equipment, office furniture, windows…- must always be clean and dry.

Clean all organic matter on any type of surface in the hospital.

Perform a different cleaning in areas under renovation or under construction.

Frequent hand hygiene is essential in the health center.

While the employees of the hospital cleaning company are performing the cleaning tasks, they must not wear any type of jewelry and must wear uniforms.

The Hospital Infection Control Service can only use strong disinfectant products on surfaces with organic matter or as directed.

The hospital cleaning company has to ensure that it has the amount of equipment and the quality of its surface cleaning and disinfection products.

Hygiene products, such as soap and towels, have to meet the needs of the sector.

Sterilization: It is the process by which we are destroying all existing microorganisms on an object or surface.

Health personnel has to follow all the processes established in their work to heal wounds, the handling of medical supplies, etc.
Different cleaning areas in hospitals
The hospital cleaning company has to consider three different areas in the clinical center.
critical zones

. The hospital cleaning company has to consider these areas of cleaning. These are environments where there is a very high risk of infection transmission. We performed risky procedures in these areas with or without patients. Also referred to as a critical area are the rooms in which immunosuppressed patients are found (whose systems function below the normal rate). Some of these areas are the Intensive Care Unit, Clinical Analysis Laboratory, Transplant Unit, Surgical Center, or High-Rise Nursing, among others.

semi-critical areas

. Patients who have low-transmission infectious diseases and non-infectious diseases occupied those wards and rooms. Bathrooms, outpatient clinics, the emergency room, infirmaries, and hospital corridors are some areas considered semi-critical.
non-critical areas. All rooms and wards in hospitals or clinical health centers that are not occupied by patients and where risky procedures are not performed. The changing rooms, offices, administrative areas, warehouses, or secretariat.
General rules in a hospital cleaning company
One of the essential requirements of the hospital cleaning company is its almost total availability of services since health centers are in continuous movement and with risky activities daily. Thus, the health standards established by public institutions are:
Use rubber gloves to immediately clean stains of blood, feces, or other body fluids.

Dry sweeping is not allowable. The hospital cleaning company cannot use brooms, dusters, vacuum cleaners, or utensils that can cause dust and dirt to be raised on the floor or on different surfaces. It is really important not to cause air currents that can displace germs to proceed with contagion.

It must be systematically cleaned and disinfected daily since it is the only way to achieve permanent security in hospitals.

The main plan of the services of the hospital cleaning company must be based on cleaning and disinfection.

The hospital cleaning company will use the double bucket system. The first has a soapy detergent solution and the second will have a solution with bleach or disinfectant. However, with cleaning the critical zones, the content of the buckets is different, so care must be taken to change the contents when changing zones.
More Rules:
However, the cleaning material is exclusive to each risk area. We cannot mix the material in any of the areas and you have to be very careful that each room has its own material. The cloths, scourers, or gloves must be specific in each consultation.

It is necessary to clean all surfaces under the pre-established regulations. All floors and furniture can accumulate dust. Splashes of organic debris or other fluids are susceptible.

It is important to clean with a damp cloth with water and detergent to later rinse the same area with another cloth and drain the water well.

The cleaning process must go from the least contaminated areas to the most contaminated in a unidirectional direction. To go over the area again, the cloth needs to change once in a while. For rinsing, they must clean it with a cloth moistened with clean water and well wring out.

To disinfect a surface, it has to be completely dry.

Computer equipment, televisions, and other technology items. Turn them off before starting.

To disinfect a surface, we must use a bleach solution for at least 15 minutes of waiting.
General disinfection standards for the hospital cleaning company
The company's management must control all products used for the disinfection.  Certain areas have their own file with the data.

The mixture used for the disinfection of the different areas needs cold water.

We can not mix incompatible products, so it is necessary to follow the manufacturer's instructions when using them.

The most common disinfectant we can use is bleach and never on metal surfaces. It can deteriorate them later. : Let the disinfectant to act for 10 minutes and then clean the surface.
When does a hospital cleaning company have to perform High-Level Disinfection?
High-Level Disinfection is necessary within the cleaning process of semi-critical material. That has contact with membranes, mucous membranes, or non-intact skin. A hospital cleaning company has two methods by which to carry out High-Level Disinfection. We can do it manually by disinfecting with the immersion method, or automatic disinfecting machines can be handy. The best method to perform disinfection is automatic disinfection. We must carry the hospital cleaning company out in well-ventilated areas. Away from where the patients are and from the area where there is a clean material. Before disinfection, it is necessary that all the material needs some washing and rinsing with plenty of water.
And you, do you already know how to choose a hospital cleaning company and what parts are the most important in this cleaning?
If you have questions leave us and comment, and if you liked it, we invite you to share.