Who would like to work in a dirty and messy office? Exactly no one. But it is also that recent studies have shown that a dirty office is a less productive office and with a greater number of sick leave workers.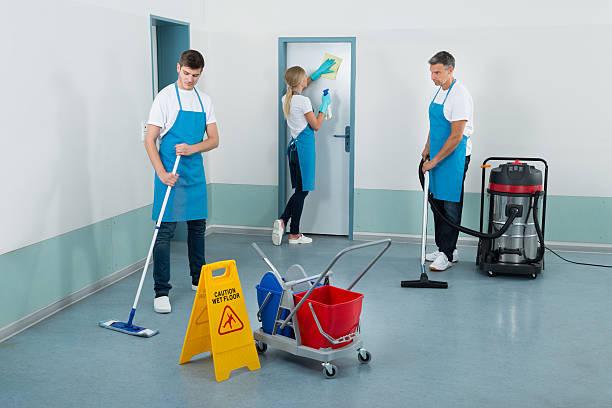 Whoever has a business knows the importance of cleaning, which is why it is common to hire a cleaning company in Sydney to carry out these tasks at least a couple of days a week. Many of our clients commission us to clean their offices, where we find offices with different parameters. Knowing how to distinguish the material of these surfaces is of great importance to choosing the correct cleaning system.
The most normal thing is to hire maintenance cleaning tasks, but every season it is necessary to carry out a thorough office cleaning or general cleaning. Thanks to this general cleaning of offices, we ensure that the space is always in the best conditions so that workers and clients are in the best conditions. Today we tell you what a general office cleaning or a thorough cleaning of the office comprises.
Before explaining what a
of an office or office comprises, we want to mention why this type of cleaning is usually done:
– Change of office. When we enter new premises, whether purchased or rented, it is necessary to carry out a thorough cleaning to leave it as we wish.
– Work. Of course, after any work, no matter how small, it is necessary to carry out thorough cleaning.
– Pests. Sometimes, without expecting it, pests appear in our spaces and after carrying out the disinfection, it is necessary to carry out general cleaning.
– Change of cleaning provider. Whenever we work with a new client, we thoroughly clean the space to leave everything in perfect condition.
General cleaning of offices, walls, ceilings, and ventilation ducts
We will start at the top since the dirt that is deposited in high areas can affect the rest of the elements in the room. Before cleaning, we must know what the materials to be cleaned are made of. It is necessary to properly sanitize the grids, switches, and lamps. We must also pay attention to the false ceilings and different nooks and crannies that we find in office cleaning.
General cleaning of offices, furniture
Just as there is no such thing as an office that cleans itself, there is no such thing as an office without furniture. The furniture, because of its regular use, accumulates dirt, so it must be a very important element in the general cleaning of the office. As in the previous point, we must know the material of said furniture and use products that are not harmful to them. If we want to achieve good results and take care of every detail, we must pay enough attention to cleaning the furniture to ensure great results.
General cleaning of offices, glass, and windows
Glass and windows are elements that get dirty easily. Besides keeping them by removing the most obvious dirt, we must take care of them during general cleaning. There are offices that require high-rise glass cleaning because of the characteristics of the building. At Integral Sydney, we have qualified personnel and specific machinery to clean windows at height.
General cleaning of offices, floors
General cleaning, of course, includes perfect floors. Thus, starting by cleaning them is the best option. In order to carry out this cleaning work, it is important that we have previously made sure that the pavement is clear and we can carry out our task without obstacles. To carry out this task, we start with a professional vacuum cleaner and then we scrub it with a product suitable for the material used. We can also choose to apply a product that makes the pavement shine.
General cleaning of offices, toilets, and bathrooms
We must thoroughly sanitize the toilets and bathrooms of the offices in a general cleaning to ensure the health of workers and clients. Cleaning and disinfection of bathrooms and toilets is a very important task. We must sterilize each of the elements with specific products.
General cleaning of offices, kitchen
When the company has a small kitchen or office, it is necessary to carry out disinfection to avoid any food poisoning. In addition, this part of the office is where the workers prepare their food and eat, so there may be odors that affect the rest of the space. It is important to prepare the space so that it does not affect the rest of the rooms and a good atmosphere is breathed.
If you need a general office cleaning or a general office cleaning, you can ask us for a quote without obligation and one of our technicians will contact you as soon as possible to offer you a solution according to your expectations.