Business
10 Reasons Why You Should Conduct A Competitive Analysis
What is Competitive Analysis?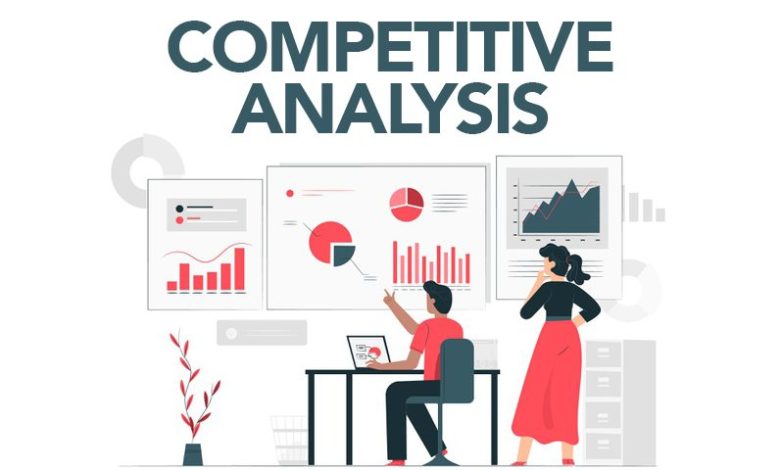 A competitive analysis is a tool that helps organizations make strategic decisions about the company's position in relation to its competitors.
Companies can use competitive analysis to determine which markets are worth competing and how much effort they should put into them. It can also help identify opportunities for future growth.
Competitive analysis is a quantitative method for analyzing the competition among organizations and individuals in a given industry.
The competitive landscape is now more complex than ever. With the changing nature of work, it's hard to keep up with all the new players in an industry. It would help if you had a tool like this to make sense of it all.
Companies make such decisions by analyzing their competitors' strengths and weaknesses. 
It can also help them decide when it's time for them to switch strategies or exit a particular market altogether.
How to conduct competitive analysis?
Step 1: Understand your current competitors 
It's not just about understanding your competition but also about understanding how your business stacks up against them.
Many companies are using this approach for competitive intelligence purposes. They use it to find out what products or services the competition offers, how they're offering them, what price range they're at, etc.
Step 2: Gathering data on your potential competitors
It is the second step in competitive analysis. You can use different tools to get this data. Here are some of the most popular:
 Google Analytics: It provides an overview of website traffic, visitor demographics, and user behavior on your website.

SimilarWeb: It provides insights on how similar websites are performing in terms of traffic, social media engagement, and SEO ranking.

 Alexa Rank: This tool offers insights on how well a website ranks among its competitors globally.
Step 3: Analyze the market
You must first determine the type of market you want to target. For example, if you are a restaurant owner. And you want to open up an ice cream shop. Then you would have to know about the ice cream shops in your area and what they offer.
Suppose you are an entrepreneur looking for investors for your startup company. You would have to know how many companies in the same industry have been funded by investors recently and whether they were successful or not. 
Step 4: Understand your strengths and weaknesses 
It is critical to recognize your strengths and areas for improvement.
As a business owner, you need to understand your strengths and weaknesses in order to develop a plan for the future. 
You also need to know how your competitors are doing so that you can keep up with them.
Competitive analysis is not just an exercise in self-improvement. 
For this step, companies can use various tools like SWOT, PEST, etc. The key here is understanding the different aspects of your business. Also companies need to know what they are good at and what you need to improve on.
Step 5: Come up with a plan of action
You now have a better understanding of what your competitors are up to after doing a competitive analysis.
Take all of the information you've obtained about each competition and look for ways to improve specific aspects of your own work. If you look hard enough, you'll probably find something.
Not only will you be able to discover critical areas for improvement in terms of content development, SEO, and social media involvement. But you'll also be able to assist in the establishment of your company's presence. It would be among potential consumers, blog readers/subscribers, and users of social media.
10 reasons why you should conduct a competitive analysis:
Identify what you are good at

: Competitive Analysis helps identify what your company does well, which can help establish long-term goals for the future.

Identify your weaknesses

: Competitive Analysis helps identify areas that need improvement so that businesses can allocate resources accordingly.

Determine market share

: A competitive analysis will help determine how much market share the company

Understand your competitors

: A competitive analysis helps you know what your competitors are doing and how they're doing it so you can take steps to improve your own strategy.

Make informed decisions about marketing strategies

: A competitive analysis helps you understand which marketing strategies have worked for others, what has not worked for others, and what will work for you in the future.

Improve business strategy

: A competitive analysis helps to identify the market trends that are changing or emerging so that you can develop a new strategy accordingly. It also helps in identifying how other companies are doing what you do so that you can stay ahead of them by finding out their secret sauce.

Competitive advantage

: A competitive analysis helps the business to gain an edge over their competitors. Businesses do this by understanding the market, what they offer and how they can improve on that. It also helps them know where their market share is dropping and why.

Position yourself better

: Competitive analysis helps you compare your product or service with that of other companies in an objective manner.

Enhance your own products and services

: Your customers' wants and needs will change as your business grows. Analyzing both your own and your competitors' customer evaluations is one way to anticipate such demands and expectations. By comparing evaluations, you'll be able to identify market gaps and predict client requirements and expectations. Along with your competitors' upcoming advancements.

Finding Gaps

: Customer input and consumer-centric content are only part of a competitive study. Knowing who your competitors are employing. And also, corporate expansions help paint a bigger picture of emerging trends, workplace culture, and other essential variables customers evaluate when deciding whether or not to stick with a brand.
Conclusion:
A competitive analysis is a process of evaluating the strengths, weaknesses, opportunities, and threats of your company and its competitors. It is an essential part of the marketing strategy.
Competitive analysis helps you understand where you stand in relation to your competitors. It will help you identify what needs to get done in order to improve your company's performance.
Effective competitive analysis is one which leads to a winning strategy. The analysis should also be conducted in a timely manner and provide the information needed to make the decision.
In this article, we have discussed ten reasons for conducting competitive analysis. Some of them are about the importance of analyzing competitors in order to gain a competitive advantage. While others are about the importance of understanding what changes in your industry as a result of new technology or innovation.
Companies should conduct a competitive analysis from time to time to remain competitive and relevant.