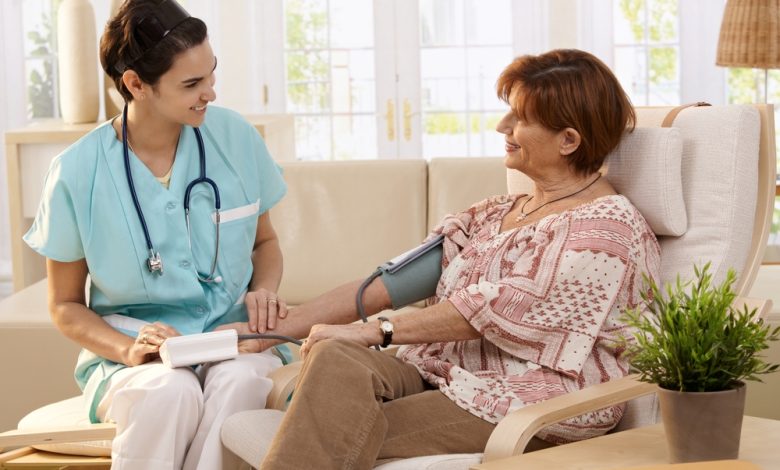 The kitchen space is the heart of every home. It is the place where families gather to talk, cook, and share unforgettable moments. Enjoyable experiences in the kitchen are vital to older people's overall health and productivity. That is why kitchens need to be accessible and easy to use, with appliances, storage, and gadgets within easy reach. Our home healthcare agencies in Gurgaon ensure that your loved one's kitchen is safe and comfortable so they can easily prepare meals. 
Our home healthcare agencies in Mysore also help in remodelling the kitchen. And it can be challenging to remodel to meet the changing needs of an older adult. It can be expensive and out of reach for many. Replacing appliances, cabinets, or access to utilities involves prohibitive costs that may be unnecessary once a little effort is put into intelligent planning. From the most familiar challenges seniors face in the kitchen, we have compiled a helpful list of budget adjustments you can make to ensure safety, independence, and home comfort for your loved one.  
Smart Storage for Seniors
A little thought about how to store cookware can go a long way. Thoroughly check that frequently used items are placed at a height that can be easily reached without bending down or using a stool. Avoid storing cookware in taller cabinets and opt to arrange cutlery at waist height. There are also countless storage solutions to buy.  
Consider installing pull-out shelves in base cabinets, storing bottled ingredients on a convenient tray, or storing spices on a two-tier spice rack for easy access.  
Better Lighting 
Unclouded vision is essential for seniors working in the kitchen. With various ingredients to choose from when cooking, the proper lighting can mean the difference between danger and protection.  
By increasing the lighting above and inside closets, workspaces and storage areas, seniors will find what they are looking for more efficiently. They will enjoy working in well-lit regions more easily. In addition to adjusting the proper brightness in the kitchen, opt for replacing standard light switches with rocker switches. Rocker switches are easy to use and accommodate adults with weakened muscles or reduced hand-eye coordination. 
And many elders are very fond of cooking but, to low mobility, cannot cook. In such situations, our home healthcare agencies in Gurgaon, our caretakers, provide the best companionship by helping and cooking with them.  
Comfortable Sitting 
Sitting comfortably for a long time can increase the efficiency of food preparation and allow people to stand while working.  
Now your darling can be active in the kitchen without pain! Although senior living spaces are often far from spacious, it is essential to consider seating options that provide companionship and comfort in the kitchen area. A medical kitchen stool offers padded seats, adjustable heights, and armrests to maximize comfort and productivity.  
Lower Workspaces 
Installing a corner table or lower island makes meal prep more accessible and enjoyable for someone who finds a standard counter height a daily challenge. Adding spaces that accommodate a wheelchair or shorter height is another handy way to motivate your older adults to take an active role in the kitchen. Sitting still while completing essential tasks gives your loved one a chance to relax while feeling productive.  
Improved Sink 
Upgrade vanity faucets to lever faucets instead of rotary knobs for more effortless operation. These innovative faucets eliminate grasping and the possibility of forgetting to turn off the water. Save hassle, save money, and let your elders enjoy simple amenities that make all the difference. Alternatively, you can add a motion sensor faucet.  
The adapter is also a simpler and cheaper option. Use the powerful advanced water spray function to rinse off hardened food on dishes, or choose the gentle water jet function, which is better for rinsing fruit or vegetables and cleaning the sink. Washing in the sink can also be a breeze with a faucet sprayer that includes a lever to control water flow.  
Helpful Hand Tools 
Older adults often struggle with chronic conditions such as arthritis, osteoporosis, vision problems and fatigue. Many also face the challenge of post-stroke effects severely limiting their mobility and coordination. To help seniors with their daily activities, our home health care agencies in Mysore and our care managers and experts recommend installing customizable kitchen gadgets for preparing meals for your loved one. Discover helpful devices for seniors, like automatic openers for jars, cans, bottles, oversized handles and more.  
Effortless Reach
Help your senior reach effortlessly. This lightweight reach-grip stick allows seniors to get around in hard-to-reach places and enjoy more of their independence. The product offers a robust gripping device that can handle small objects that require strong fine motor skills, such as coins, and more important things that need strength and flexibility, such as fallen pieces of trash. Easy to use and store, this is A worthwhile investment for the kitchen of grown-ups.  
Improved Time Tracking 
For seniors who have trouble staying focused or have memory loss, cooking times can be easily forgotten, leading to overcooked or unpalatable food. Keep your loved ones from getting frustrated when tediously prepared dishes go to waste due to time tracking and add this magnetic timer to your kitchen routines. The large knob can be adjusted with minimal effort to speed up cooking times and remind diners to oversee cooking.  
In our home healthcare agencies in Gurgaon, caretakers also Motivate seniors to focus on specific household chores for limited periods. Regardless of the kitchen upgrades you choose, your loved one will surely appreciate the increased accessibility and independence in their cooking experience. Paying attention to details that can improve job performance and safety in the kitchen can go a long way in making ageing at home a pleasant experience. In addition to planning home improvements to meet the needs of older people, family members who care for older people should consider that home care services alleviate many of the burdens involved with tasks of elderly care.  
Caretakers provide valuable help with meal preparation, grocery shopping and other daily household chores. Feel free to browse our home healthcare agencies in Mysore and other states, a range of additional resources for caregivers on our website, and explore relevant topics like healthcare, personal care and caring for the elderly. Contact our home healthcare agencies in Gurgaon today to learn more about our team of experts skilled in caring and experienced Personal Advisors, Registered Nurses and Home Attendants who provide expert care for families like yours.