Insurance
Do You Really Need Flood Insurance in New York City?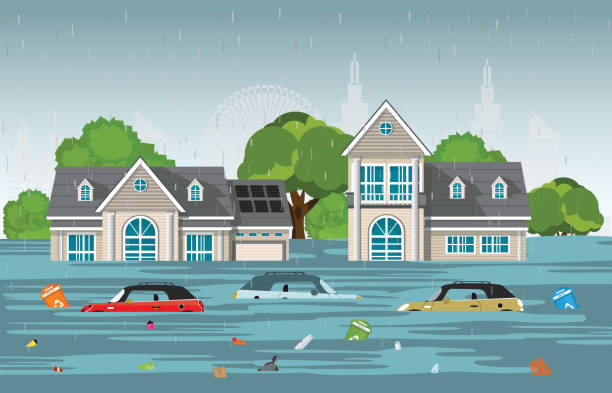 In 2012, Hurricane Sandy hit New York City like a hurricane. The economic damage was estimated at $19 billion for the city alone and nearly $33 billion for the entire state. New Jersey was also affected, with damage amounting to $30 billion.
Some of those affected were able to rely on flood insurance funding, but the road to rebuilding was long and difficult. For those who did not have insurance, or even if they did, however, it seemed impossible to return to a peaceful life.
Even when there were serious flood warnings, it was not always possible to protect one's home or property. While it's true that no insurance policy can protect your home from hurricanes, flood insurance can at least give you financial relief if your home is exposed to the wrath of Mother Nature.
Here you'll learn everything you need to know about flood insurance, including who needs it most, what the premiums are and how to get it.
Does my home insurance cover flooding?
Many New Yorkers mistakenly think that homeowners insurance protects them from all-natural disasters, including floods. This is not the case. In fact, most insurance policies only cover the types of damage specifically mentioned in the policy.
The average policy provides coverage for fire, storm, lightning, vandalism, theft, and hail. Most explicitly exclude coverage for flood, as flooding is generally a widespread and totally destructive natural phenomenon.
Flood insurance is therefore usually offered under the National Flood Insurance Scheme. At least primary flood insurance can be purchased through the NFIP. Many homes in New York City exceed the NFIP limits, requiring homeowners and some renters to purchase additional or supplemental flood insurance.
First, it is important that you have other flood coverage in addition to your landlord's insurance. You should also make sure that your insurance is sufficient. To allow you to recover financially in the event of a major flood.
Do I live in a hazardous area?
Some areas of New York and New Jersey are more vulnerable to flooding than others. Of course, land on the New York coast is more prone to flooding than land inland. But even areas that seem far enough away from the water harbor dangers. Among the most dangerous areas in New York City are.
Battery Park City
South Street Seaport.
Upper Manhattan
Brighton Beach
Red Hook
Howard Beach.
Not all high-risk areas or evacuation zones are listed here. To find out about the different risks, you should refer to the New York City flood map.
You may also like: Insurance Brokers Drive the Insurance Market
There is also an online tool that can be used to assess the risk of flooding in New Jersey. Unfortunately, the number of flood risk areas appears to be increasing in the state. Currently, residents of the following cities are at the greatest risk of flooding.
Ocean City
Atlantic City
Toms River
Long Beach Township
North Wildwood
Ventnor
Even if you don't live in an area prone to natural flooding or disasters, there is still a risk of flooding. Snowmelt in the winter and heavy rains in the spring can cause water bodies such as ponds and irrigation systems to overflow and flood.
According to the National Flood Insurance Scheme, about 20 percent of the claims processed by the government are reported by residents of low-risk areas.
Are there any exclusions or limitations I should be aware of?
Many people are surprised to learn that personal property and furnishings located in basements, crawl spaces, and basements are not covered by flood insurance. This includes appliances, sofas, and carpets.
In addition, there are coverage limits. Public coverage is limited to $250,000 per building and $100,000 per household item. Companies can get up to $500,000 for buildings and an additional $500,000 for household items.
Deductibles are also important. Deductibles for household goods and real estate will likely be set separately. There are also restrictions on certain types of property, such as antiques, collectibles, and art. For these items, additional coverage can be purchased if necessary.
How much does flood insurance cost?
How much does flood insurance cost in New Jersey and New York? According to FEMA, flood insurance costs on average about $500 per year. That's just over $40 a month (not a bad amount considering the amount of flood damage).
Of course, not everyone has access to the same insurance, so premiums will vary. Depending on the level of risk and the coverage chosen (since flood insurance only covers what is stated in the policy).
How do I get flood insurance?
Now that you know that flood insurance is not included in home insurance, that living in a low-risk area does not protect you from flooding, and that premiums are cheaper than many people think, it's time to get insurance and make sure you're protected.
Fortunately, getting flood insurance is not difficult. Talk to your current insurance provider or contact several to get an informed quote.
It's rare to be warned of a flood early enough to avoid the damage. The last thing you want is to survive a flood, believe you are insured. Then feel responsible for repairing your property or replacing things.
About Author:
Lily Poole is a Property and Home Insurance officer by profession. She is pretty well experienced in flood insurance nyc. Moreover, she has an impressive profile in the training and development industry.