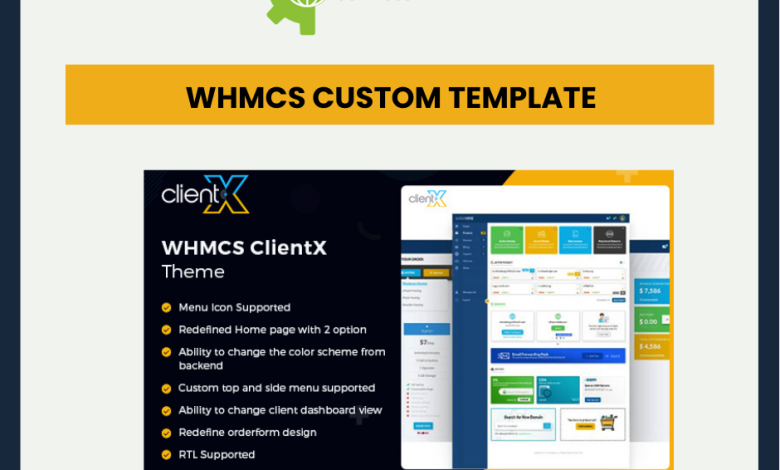 WGS provides outstanding as well as fully featured modules that enable you to add on some more functionalities into your WHMCS. Our team has also work experience creating WHMCS theme customization modules as per the particular business requirements. With WHMCS custom template service, we'll create a custom theme that allows you to seamlessly integrate WHMCS with your hosting company's brand. 
We build the customised WHMCS functionality depending on the requirements of the clients. Our expert team of WHMCS will serve as a valuable source of the information.
Whether you need a  software installed or any number of theme customization, you can contact us here by filling this form.
Services We Offer
We offer a full range of design and development services. As our client, you'll be in touch with our experienced project management and leadership teams, with updates provided and questions answered at every phase of the project
Custom WHMCS Domain Registrar Module
Already we have developed the Registrar module for AWS route 53, Ficora, Switch EPP, .SGNIC etc and you can rely on us if you want to develop any specific domain registrar module.
Custom WHMCS Hook
When it comes to developing custom WHMCS hooks, we are best in it and have developed many hooks in past and can update default WHMCS functionality as per your requirement.
Provisioning Modules
Provisioning Modules or you can say server modules are our expertise. Just have a look at our products and you can get an idea what we can do. One of our top server modules are WGS vmware module, WGS SO you start module.
Custom WHMCS Addon Module
Provisioning Modules or you can say server modules are our expertise. Just have a look at our products and you can get an idea what we can do. One of our top server modules are WGS vmware module, WGS SO you start module.
Web Hosting Company Set Up
If you just have an idea and want to set up a web hosting company, you are at the right place. We set up hosting companies from scratch and have expertise from development, server side support, marketing. Get in touch and we will give you a brief overview of what we can do and let you know our past successful clients stories.
Custom WHMCS Payment Gateway Module
WHMCS does comes with default payment gateways but when it comes to any specific payment gateway, we are ready for that. We just need API documentation of that gateway and rest leave it upto us. You can check our already developed payment gateway in our product section, might be the one you are looking for.
As a hosting provider, you must create a website that represents your company. It should be visually appealing, completely functional, and quick enough to set a good example for your future clients. The web hosting theme you select is critical to this happening.
WHMCS is also worth your consideration when it comes to developing and modifying websites. The tools and functionality included with web hosting template that allow you to quickly launch or maintain your web hosting website.
In this article, we will explore two of the greatest web hosting templates that may easily help you grow your business.
1. HostX
HostX is a well-known, multi-purpose, and versatile WHMCS custom template. Because WHMCS is not SEO-friendly, you will need to handle SEO for your website with a third-party application. HostX's 'SEO Manager' function allows you to manage SEO efforts with a few clicks. It is also a full bundle that includes the front end, client area, and order form template.
Furthermore, the pre-built pages make theme tweaking a breeze. What else? HostX WHMCS Web Hosting Template also has built-in SEO tools to help you optimise your web hosting site and increase its search engine performance.
Features: 
Page Manager

Top Menu

SEO Manager

Dynamic Testimonial

Live Timer on Offer

Live Chat
2. HostCluster
HostCluster is a popular web hosting template that integrates with WHMCS to provide you complete control over your website. With over 10 demonstrations and several style options, it is one of the most adaptable WHMCS custom template, capable of handling practically any feature, including crypto hosting, domain registration, and so on.
Its pre-built components allow you to create a website from the ground up. Isn't that a more efficient option? It also includes a drag-and-drop visual composer, as well as a front-end and back-end.
Features:
Page Manager

Top Menu

SEO Manager

Dynamic testimonials

Live Timer on Offer

Live Chat
3. ClientX 
ClientX WHMCS template allows you to personalize the color and layout of your web hosting website. This web hosting theme includes a variety of stylish and engaging WHMCS layouts.
This is the theme for you if you are a novice. It provides simple recommendations to help you use it in layman's terms. This web hosting theme is also compatible with over 200 WHMCS plugins.
Another important part of this WHMCS theme is that it is updated on a regular basis, leaving a lot of room for customization for businesses.
Features:
Eye-Catching Home Page

Social Signup 

Multiple menu styles

RTL supported 

Custom Orderform

Domain registration page
The Last Saying
So, these are our top recommendations in the field of best web hosting templates. While there are many more, identifying the best is what makes the difference. We have provided the following selection of WHMCS custom template with exceptional features and tools to assist you in building, customising, and controlling your web hosting website.