Gaming
Everything You Need to Know About Fortnite—GamersGift
Everything You Need to Know About Fortnite—GamersGift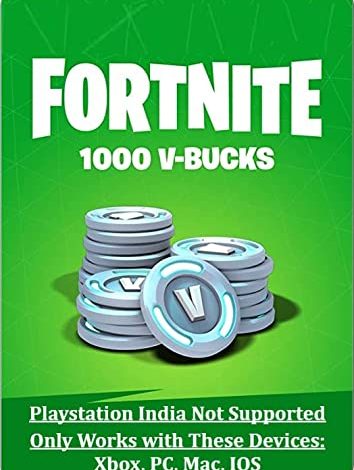 Fortnite 1000 V-Bucks card – The video game Fortnite was released by Epic Games in July 2017. Since then, the game has taken the MOBA game industry by storm and has created a huge community of Fortnite players with more than 270 million registered accounts. According to Epic Games, the game has an average of about 25 million active players on a daily basis.
The major reason behind the huge success of this game is its simple yet entertaining concept. The game starts with 100 players competing against each other and constructing their hideouts.
The main concept of the game is to destroy enemies (other 99 players) and stay alive until the end to win.
With 23 seasons at its current state in November 2022, the game is still continuously building and coming up with new and great ideas to keep its players onboard.
You Need to Know About Fortnite
Also, one more interesting fact about Fortnite is that it has thousands of games inside of it that you can play. The most popular and most played Fortnite game is Battle Royale, which we'll talk about in detail later in this article.
Other games are Creative, in which you can turn your imaginations into reality and make islands and games that you can share with others; Zero Build, which is almost as good as Battle Royale except it doesn't allow you to build or construct; and Save the World, which is full of monsters and requires teamwork to take those monsters down.
So, with the little bit of information on the overall Fortnite game, let's understand the Fortnite (Battle Royale) game's mechanisms.
Also, before deciding to play Fortnite, first check its PC requirements:
Video Memory: 2GB VRAM
Video Card: Nvidia GTX 960, AMD R9 280, or equivalent DX11 GPU
RAM: 8 GB or higher
Processor: AMD Ryzen 3 3300U, Core i5-7300U 3.5 GHz, or equivalent
OS: Windows 10 64-bit
See Also: Fortnite Gift Card
How to Play Fornite: Battle Royale
With thousands, maybe even millions, of players who already have experience playing Fortnite, it might trouble you as a new player. If this is your first time playing the battle royale, learning some Fortnite strategies can help you survive longer.
From the intro, you know how the game operates. Your main goal is to outlast every other player and win, but there are many additional mechanisms at work that may be pretty complicated, and you'll need to understand them if you want to succeed.
But before starting the game, let's first understand some basic things.
Open Fortnite Account
To play Fortnite, you first need an Epic Games account. You can create your account either through the Epic Games Launcher or through the website.
For an easy signup, simply follow Sign Up>Sign up with email/Facebook/Steam, or any other service you want>Fill out the form>Agree to Terms of Service>Continue. That's it. Now, when you launch Fortnite on PC or Xbox, fill in your sign-in details and start playing.
Understanding the Rules
The rules of playing on Fortnite or any other Epic Game are simple. For example, don't buy or sell your account, avoid any harmful activity toward other users, avoid vulgar or violent language, avoid getting into free V-bucks scams because they are not legit, refrain from cheating, and don't share your or someone else's personal information to stay safe from hackers or scammers.
These were the common rules that every player must obey, and other than this, every Fortnite season has different rules for players that you can find here.
Start the Game
Now that you've understood some basic rules and created your account, it's time to start the game with full spirits.
When the game starts, you'll see your character on the Spawn Island. This stage is perfect for newbies to practice shooting and grabbing items. Get  Fortnite 1000 V-Bucks card from a trusted online retailer.
However, no matter how many times you shoot, the other player will not die or incur any damage, and the items you pick up on Spawn Island won't be able to be taken into the actual game. Spawn Island is a type of waiting area until the game's 100-player quota is filled.
Once there are 100 players to play, the actual game will start, and you'll need to hop on the Battle bus that will take you on a tour. On the tour, you'll lend on a particular location of your liking and start the loot (picking items and weapons) and killing or destroying other players' safety structures, such as buildings, forts, walls, etc. You can also build your own fort or hideout with the help of game tools.
Important Tricks
These tricks will help you start the game smoothly and give you a better gaming experience:
After the game starts, the game prompts you to lend somewhere and start playing and fighting. You'll see numerous locations on the map that have the most loot (items that you can pick up, like weapons and others). Most of the players will initially lend in those locations. So, your aim is to avoid going where the majority is headed because then you'll have to face a whole bunch of experienced players and higher competition. This might result in you losing the game in the next 2 minutes after you start. You can lend at a location that is almost at the end of the battle bus route.
When you pick items or weapons, always try to choose rare ones because they do the most damage and offer great protection from enemies. To decipher weapons, there are colour codes in the game. Different coloured weapons have different characteristics. For example, grey-common; blue-rare; purple-epic; green-uncommon; gold-mythic; and orange-legendary.
Everything You Need to Know About Fortnite
Try to maintain cover, such as by running across buildings or trees, and avoid going in open areas where anyone can kill you with an open fire.
Make sure to build a protective area, even if it looks trashy. You don't need to build huge fortresses or buildings to cover yourself.
Always make sure to close the door or track you're entering to avoid giving clue to other players that a player is already here. This way, you can attack them easily.
Keep your head high in battle. Whenever you see a lot of players on the ground, make sure to go as high as possible on buildings or forts.
Avoid destroying trees completely when you're making a safety house or fort for yourself. Stop the cutting when the tree's health is at 50. This way, other players will not know that you are there.
Things You Can Buy in Fortnite
Although Fortnite is a free-to-play game, you can still buy a lot of things to keep up the gaming spirit and not get bored:
Gliders
Gliders are useful for players while jumping off the bus or at any other high altitude. They come in different varieties, but if you want to look different from other players, you can buy the Frostwing Glider.
This glider is made of ice, has wings, exhales blue flames, and roars. It is a kind of unusual and overdramatic thing in the game, but it's worth it. Because you should always overdo others and empty your pockets!
Thunder Crash Pickaxe
A pickaxe is used to destroy or cut anything you want. For example, it is helpful in destroying trees and making structures. However, you don't need to buy the Thunder Crash Pickaxe; it still gives you a feeling of winning.
When you kill or destroy something, its horns—which are there because it's made of llama and unicorn head (yeah, right)—grow larger and illuminate.
Outfits
Outfits are useful when you are a fashionista and the same game outfit is depressing you every day. Buying a new outfit will be a total game changer for you—don't take it literally, though, because that won't change your abilities to play the game. purchase  Fortnite 1000 V-Bucks card from a trusted online retailer.
Battle Passes
Battle passes are for those who want instant skins and other in-game items—that don't affect your gameplay. To simplify, you can get the rewards from the levels you skipped playing when you bought the battle pass. This way, you can avoid playing certain levels or seasons and still get rewards.
So, we've covered some important points for your shopping guide for Fortnite. You can buy all of these items using a Fortnite gift voucher.
What are Fortnite Gift Vouchers?
A Fortnite voucher allows you to enjoy easy shopping on Fortnite with prepaid V-bucks. When you buy a Fortnite voucher, you get a particular amount of V-bucks.
For example, if you buy an INR 1,000 Fortnite voucher, you get 1,000 V-bucks; if you buy an INR 2,200 voucher, you get 2,800 V-bucks, and so on.
Game vouchers are considered safer for gaming because you don't use your bank cards on the gaming platform. Which prevents your bank information from getting hacked or you from getting scammed there.
Game vouchers or cards can be redeemed easily in your Fortnite account. Buy  Fortnite 1000 V-Bucks card from a trusted online retailer.
How to Redeem Gift Cards
Fortnite gift card redeem option is straightforward; you just need to follow these steps:
Fortnite account login>Go to your profile in the upper right corner>Redeem Code> enter the code>Redeem or Continue.
Once the code redemption is done, you'll receive your V-bucks in your Fortnite account wallet. Which you can use for any type of purchase within the game.
Interesting Facts about Fortnite
Fortnite built a team of more than 200 million active players in just six years. So, what are other interesting facts about the game that you need to know? Let's find out:
The game was first released as a paid title in July 2017, but in September 2017, it was made available free-to-play.
The first game in Fortnite was Save the World, and Battle Royale came in September 2017, when the game became free.
Some people pay $20 per hour to learn about Fortnite game.
The rarest skin in Fortnite: Battle Royale is Recon Expert, which came out in the first season of the game and costs 2,000 V-bucks.
Conclusion
So, you've now become the official Fortnite player after this guide (well, if you actually followed the instructions). Anyway, we hope you enjoyed this detailed read. And are ready to become the number 1 out of 100 players in the Battle Royale game.
Also, if you want your Fortnite 1000 V-Bucks card from a trusted online retailer, feel free to visit GamersGift.