With cleaning spaces, most of us concentrate on all the surfaces, objects, and elements below eye level, but we often forget about the amount of dirt that accumulates on ceilings until it becomes apparent that it needs cleaning.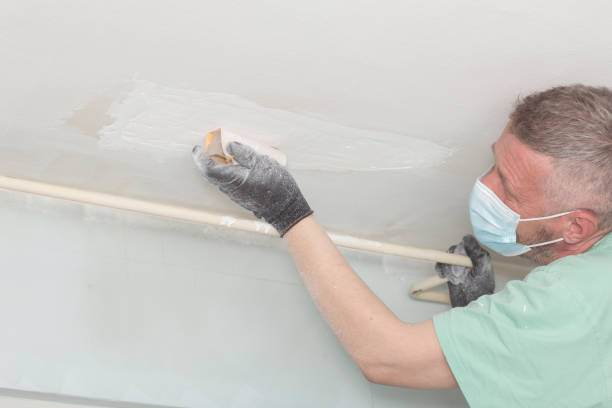 In certain places, the cleaning of ceilings is as essential as that of the rest of the facilities. This is the case in
 food industries or sanitary areas.
But not only in critical sites is cleaning ceilings vital, but in all kinds of places, cleaning ceilings prevent allergic reactions in people, helps maintain brighter spaces, and prevents the proliferation of insects or other pests, mainly with removable ceilings or false ceilings, and helps to create a better image of spaces, whether public or private.
At SCS Group Cleaning, we have been carrying out all kinds of professional cleaning for many years, both in the public and private sectors, and we know the importance of carrying out good maintenance of many facilities in which, of course, adequate cleaning is always included under the schedule. of roofs.
For this reason, we want to share with you this post about cleaning ceilings, how to do a professional cleaning, step by step, in which we have included the following sections:
How to know when to do a roof cleaning
In the domestic sphere, the frequency and periodicity are marked by you, but in industrial cleaning, companies, or spaces for public and sanitary use, the ceiling cleaning schedule will be determined by the activity, the volume of users of the spaces, the type of waste generated, and ventilation systems, air conditioning mainly, and degree of environmental pollution of the place of location. 
Based on all this, the cleaning company will establish a ceiling cleaning schedule.
There are a series of clues that will show the need to carry out a ceiling cleaning, and that we are going to comment on below:
When you see darker areas with spots or shadows of soot.

When the originally white ceilings turn yellow.

​When you see stains near vents or air conditioning machines.

If there are mold or mildew stains, it is also time to do a review of the facilities, which may include a

ceiling cleaning

.

If you see live or dead insects in the ventilation grilles, light fixtures, etc…, this is a clear sign your ceilings need a good cleaning.

If you notice bad odors when you turn on your air conditioning or air conditioning systems, you may need to do a

ceiling cleaning

.

If there are false ceilings in your facilities, you know that the chamber between the original ceiling and the removable ceiling is a nest of dirt and a space in which insects, microorganisms, and even other larger animals, such as rodents, can breed and proliferate. Here, pay more attention to

cleaning the ceilings

of your facilities.
Roof cleaning step by step
Cleaning ceilings in public, industrial, sanitary spaces, etc… eliminates all kinds of microorganisms that usually proliferate in elements installed on them such as ventilation grilles or spaces on the ceiling, not to mention cobwebs or bird nests that serve as an ecosystem for insects and other living beings, or dirt from pollution, nicotine or grease. 
Professional ceiling cleaning involves a series of steps that we will see below:
The first thing to do is identify the type of ceiling material, if it is wood, plaster, metal, glass, fiber, etc…, to establish the ease or difficulty of cleaning it and the most appropriate type of procedure. Porous materials absorb dirt much faster and in greater quantity, so they require more intense cleaning treatments to achieve results not only on the surface but also on interior layers.

It will also be necessary to see the state of the roof, to determine if we will carry the cleaning work out, or if a deeper rehabilitation will be necessary.

The

cleaning of ceilings

implies the cleaning of many elements suspended from them or installed on them, so the elements, materials, and quantity will also need to be identified, to carry out an exhaustive cleaning of them. . Thus, for example, elements such as luminaires, grilles, diffusers, needs dismantling for total cleaning, proceeding later to their assembly again. Along with the

cleaning of ceilings

, the cleaning of pipes, pipes, profiles, filters of cooling systems, and other elements is also carried out.

It will be necessary to determine the most suitable systems. Depending on the height of the ceilings in which it is necessary to intervene.
Cleaning the roofs
of silos and tanks,
When

cleaning the roofs

of silos and tanks, additional safety measures and work-at-height systems need completion.

Before starting some

professional ceiling cleaning

procedures, all lower surfaces, such as furniture, floors (if necessary), and other installations, need further protection.

Next, the lighting elements, delicate elements, etc. need protection.

The ceiling cleaning

procedure will first involve a dry removal of surface dust, using clothes or a suction system. We do deeper ceiling cleaning using pressure machines and specific products depending on the surface that needs treatment, leaving it to act to remove dirt and germs to disappear. Among the most common treatments is

cleaning with ozone generators

projected, which also guarantees the total disinfection of the treated spaces. With installations with removable ceilings that require cleaning between hollow spaces, we will disassemble part of the installation to eliminate all the dirt and residues they contain and reassemble it after cleaning.

If nests of insects or other animal sightings are prevalent, the

cleaning of ceilings

will carry out a specific pest prevention and control treatment.

All the disassembled elements, such as lamps, grids, etc… also need cleaning with a wet system, drying afterward before assembly.
Common doubts about roof cleaning
Do the ceilings keep their original characteristics after cleaning?
The

cleaning of ceilings

allows to preserve all their initial characteristics, such as soundproofing or fireproof properties, provided that the most appropriate techniques are used after the identification of the materials, for this reason, it is important to entrust these works or

services to companies specialized in professional cleaning

.
Is it very expensive to order roof cleaning?
The

professional cleaning of ceilings

is not economically expensive when it is part of a regular cleaning protocol of the facilities, it is already part of one more maintenance task, avoiding problems because of non-compliance with safety and hygiene regulations, and added costs for more complex processes. Because of the accumulation of old and much more embedded dirt.
How will the facilities and furniture be after cleaning the ceilings?
If you order the

cleaning of your ceilings from

a

cleaning company in Brisbane

, you do not have to worry, because as we have already mentioned, they will use the most appropriate procedures for cleaning your ceilings, and if the chosen technique generates any type of residue, previously all surfaces that are not acted upon need protection.

  
Can you work immediately after cleaning ceilings?
Of course, you will resume your activity immediately. Since we adopt the procedures used by professional companies for the type of activity. Not generating any type of toxic effect, odor, or impediment to resuming work.
Home ceiling cleaning
Cleaning ceilings at home should also be a task to be carried out regularly.
It is advisable to pass a simple duster with some frequency to remove the dust that accumulates and cobwebs.
When you do this task, dust off the lamps with a cloth or any other object and suspend other decorations from the ceilings.
We can do the deepest cleaning of the ceilings, taking advantage of the general cleaning of each room.
To do this deeper cleaning, you can use a mop or broom to which you wrap a cloth. Press in line passes until you complete the cleaning of the entire surface.
Do not forget to clean the lamps, and ventilation grills.  We need to hang other decorations from your ceilings after cleaning them with a damp cloth and drying them afterward.
For cleaning washable ceilings, and mainly if you want to remove stains from the ceiling in your kitchen, it is best to use a cloth moistened with hot water with vinegar, or soap, and scrub in sections, rinsing with another cloth with clean water, as many times as needed, to get your roof looking like new again.
Rub visible stains first, then wipe with a clean cloth soaked in hot water. Use cleaning vinegar, working in sections until the entire surface is clean.
And finally, we want to give you our best advice:
A small maintenance cost always avoids higher costs. The accumulation of dirt in many spaces will always force eventually to carry out more complex and expensive interventions.  In which it may not be possible to get even good results.
Trust in professional cleaning to carry out the maintenance of your facilities.
In SCS Group Cleaning, we have a personal attention department, in which we will be happy to answer all your questions and study your needs.
Contact us, and one of our technicians will study the best services. Good periodicity for your installations, preparing a free estimate.